How Quickly Can I Get It Delivered?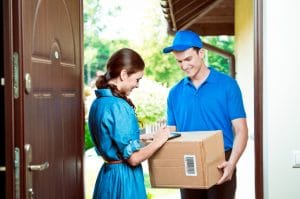 One aspect that characterizes today's supply and demand is: can I have it now?
Amazon changed the game when they began offering two-day shipping for Amazon Prime subscribers. Suddenly, the concept of "now" was no longer a dream, but a very real concept.
The race to achieve the ultimate now is still going. Amazon is planning on adding 50,000 jobs to a dozen warehouses across the States and Foxconn has decided to build a plant and hire 13,000 workers in Wisconsin. And these are just a few of the major companies pouring funds into the expansion of production.
This can be viewed as a positive way businesses for creating jobs, and at the same time it s a way for these major companies to get closer to their customer base.
A question many business owners ask, is how they can compete in the "now" race when they may not have the same resources as an the online giants such as Amazon or while still possessing the wherewithal needed may still not have the in house expertise to expedite deliveries. The answer is simply to depend more heavily on third party logistics.
Small and mid sized businesses have an advantage that large companies don't have — the ability to retain a personal connection with their customer base. It's a quality that small businesses can build upon. However, the need to compete with larger companies still exists, especially when getting one's product to their customers.
While the giant corporations have the ability to create an in-house shipping service, smaller companies may feel left out. Yet, there is a simpler and, many times, cheaper solution than in-house shipping and logistics.
Couriers and Your Company
Courier companies give businesses the advantage of creating unique and personalized shipping methods depending on one's product. While FedEx and UPS boast the ability to deliver personalized specifications, the big company feel doesn't offer the variety of options you truly need. On the other hand, USPS doesn't do anything beyond basic packaging.
Here are where independent courier companies step in. They will meet with you, curate a plan to meet your business's needs, and handle all your shipping and logistics requirement.
As a small or mid-range business, you will get the best of both worlds: keeping in contact with your customer base while delivering products with care and speed.
The notion that a small or midsized company can't join the "now" race, is shortsighted. Need It Now Courier, with locations throughout the United States, and offering rush local delivery in NYC and the tri-state area. Need It Now is your answer to your customer's question: "How quickly can I get it delivered?" For the large corporations Need it Now has the capacity to store, kit and ship all of your retail items, with over 400,000 square feet of warehouse space. Being in the courier and logistics industry for over 30 years and consisting of a family of 15 courier and logistics companies throughout the United States gives us the expertise and resources to provide the simplest or most complex logistical solutions based on your situation. Factors of cost, speed and safety are always considered when offering the best route for your deliveries.When you need third party logistics – You NEED IT NOW!