WAREHOUSING THE NEEDITNOW WAY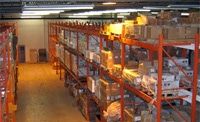 Fulfillment is a large part of any shipping service as well. This part of packing and shipping must be not only efficient, but also cost effective. Need It Now's expertise and experience in boxing, water sealing, applying and printing labels and assembling (both automated and manual) gives customers an extra touch of confidence that their items won't break or undergo any damage while on the road.
There are many third party companies which offer packaging services. Need It Now feels that if they are going to be shipping the goods, they are most likely the best source for kitting and packaging as well. Although boxes will not undergo wear and tear while in transit, it is important to make sure that they are tucked away safely and securely. This is a process which has been perfected over time. The staff know exactly how to package different materials, to make sure they arrive to their final destination just as they were dropped off, in perfect original condition.
Many items are sensitive, even if they are heavier and not traditional "breakables." Portable electronics are a great example. Need It Now courier knows how to package and crate these items so that they are not only protected from the motion of the vehicle they will be traveling in, but also to the elements and changes to air pressure or temperature, as well as other factors in their surroundings.
Need It Now is a one stop shop for anyone looking to send a package. They ensure that all of their customers, both on the sending and receiving ends, will be satisfied with their easy, efficient and safe shipping and packaging methods.
Coming Soon