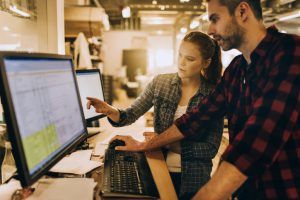 Technology in our society advances quickly and constantly. Generally, it's to improve our daily lives and we've seen incredible advancements. Just remember, that the cell phone hasn't been around as long as we think — and yet, how could we live without it?
As technology has catapulted other areas of our lives, how has technology improved the way logistics and deliveries work? There are companies that are aiming to improve the way deliveries arrive into the hands of their recipients: faster, safer, and more accurately. Which companies are doing this? And how are courier companies able to take advantage of the rising technology?

Couriers and Humanity
In the warehouse, mobile technology is being harnessed to eliminate errors and mistakes in the large-scale process of logistics. Logistics encompasses door-to-door deliveries and global shipping, which includes a myriad of different steps. Courier and Logistics companies are coping with this by using tablets to create a business that goes beyond simple deliveries. There is mobile tablet type technology that can be utilized as a constant companion while traveling through the warehouse inventory. The tablet is used to describe needed details as to particular items that can be instantly transmitted to those who need urgent information about the items to keep a plant running or keep a customer happy. There are programs that companies can download to list the work schedule for the day, scan the barcodes of all the packages to be delivered, and create the optimum delivery route to maximize speed and efficiency. Additionally, at each route stop, the courier can access information to help with the delivery, such as noting the code to the building or if there's a dog that gets a little too protective of the residence. The tablet even gives instructions for each package, so if a package contains alcohol, the courier is instructed to check the ID of the recipient.
This puts more control into the logistics process and assists in fast reliable service to you and your customers.
The other day, a new app was introduced to the market that connects to a house or apartment lock, and the courier, using the app, will be able to unlock it and leave a package right near your front door. However, the app includes a camera that turns on the minute the app unlocks the front door. Once the delivery is finished, you'll get a video, through e-mail or phone, where you can watch the delivery. What's incredible, is that the app can be used by different services from couriers to dog walkers.
Technology is connecting us and making our lives easier. Couriers are able to use to this technology to improve logistics and create more confidence for our customers and in turn their consumers or end users. At Need It Now Courier, we're always on the cusp of new technology to help our clients. Find out how we can help your business deliver to its customers.